Pelican Wire Parent Company Sources Masks from Naples Alterations Shop
In an effort to provide further protection for the Employee-Owners of Wire Experts Group, the parent company to Naples' Pelican Wire and Rubadue Wire in Loveland, Colorado. Wire Experts Group has purchased 200 reusable cloth masks from Vestire Alter & Design of Naples.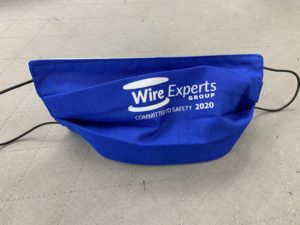 Wire Experts Group CEO, Ted Bill, also President of Pelican Wire, says "As a manufacturer for many key industries, we have been designated an 'Essential Business' and have been operational during this entire COVID-19 pandemic. Here at work, our employee-owners are working within safe distancing guidelines and we've provided everyone access to medical-grade masks and other vital equipment to protect themselves. We also want them to be safe while not at work, so we are giving every person these locally-made cloth masks for personal use. It was a great opportunity for us to offer our employee-owners some additional protection, as well as support a local business that is working hard to keep their people gainfully employed. I think we can safely call this a 'Win-Win' all around and would encourage other businesses in Southwest Florida to look for the same opportunities to serve their teammates and other business community members."
Vestire co-owner, Joe Genta, says "Under normal conditions, Vestire is Naples' premier alteration shop, operating in partnership with Gulfshore Clothier. However, these are not normal times and our team has done a fantastic job pivoting into mask production for companies like Wire Experts Group and a number of other local businesses & numerous frontline personnel. I am committed to keep our doors open during this crisis for the sake of our amazing employees and those who need these custom-made masks."
For more information about placing an order for masks, contact Vestire at (239) 963-5000 or email at ISuitYou1@comcast.net .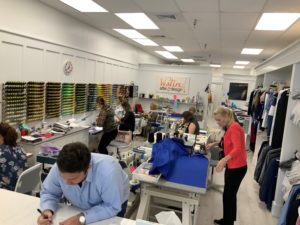 ABOUT WIRE EXPERTS GROUP: Wire Experts Group invests in unique and unparalleled capabilities in Wire and Cable industry. We use a common business platform that allows for our individual brands to be successful in their markets, while taking advantage of economies of scale and depth of experience. Through employee-ownership, Wire Experts Group allows its most important stakeholders, its employees, to directly benefit from the success of the business. Contact them at (239) 597-8555 or online at WireExperts.com.
Press Release available at:
Media Contact: Trent Dunn, tdunn@pelicanwire.com, 239.597.8555
Pelican Wire
3650 Shaw Blvd.
Naples, FL 34117
(239) 597-8555
###